The last park of our African adventure was the Kgalagadi Transfrontier Park (KTP). Everyone we spoke to raved about the park, especially the number of lions present so we were really looking forward to it. We left Kang and travelled through quite thick, sandy roads to the Mabuasehube gate on the Botswana side. The park is a multinational park with one side in Botswana and the other in South Africa.
Our first camp was at Khiding Pan 2 for 3 nights. The camp is in a great location overlooking the pan and all the campsites have large shade shelters, pit toilets and showers (if there is water). We parked the car and started to setup camp looking forward to a pleasant afternoon relaxing and watching the animals. Unfortunately the few bees that were there initially multiplied dramatically and by the time the tent was up there were hundreds of bees swarming us. I couldn't stand it so retreated to the safety of the tent. Poor Wayne managed to throw everything back into the car, getting stung twice in the process, and we decided to try the campsite next to us to escape the bees. Luckily no one showed up and the bees weren't so bad. (Typically, all the campsites are booked, but inevitably there are vacant sites in reality). All we heard during the night were hyenas. Not a single lion! We also saw a brown hyena walking down the road – another first for us.
The next day we took a drive to check out the other pans and campsites, trying to find another one to move to as our booked site was still swarming with bees. At lunch we stopped at Mabua 4 and waited to see if anyone would turn up. A group of 6 South Africans arrived on the site beside us and we chatted to them for a while. About 4pm the guy (Alan) staying in the site we were on turned up. Both groups were more than happy for us to park ourselves between them, which we were very grateful for. We had a great night chatting around the campfire with the group of South Africans. Nothing at all was heard that night and we had not seen much at all during the day.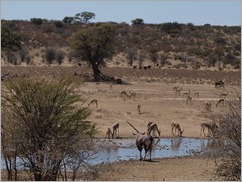 On our third day we were still struggling to find much game at all, with Gemsbok and Springbok about the only animals out on the pans. We were tossing up whether we should head across to Nossob in the South African side 2 days earlier than planned to try and see these lions everyone told us about. We ran into Isaac and Liesel, who we had met in Chobe, and after talking to them for a while we made the decision to head across the park. The Botswana side of the park though is really nice, the camps are rustic, peaceful and isolated and a perfect place to chill out, but as this was our last park we wanted to see some animals.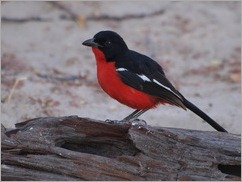 At 11am we were packed and headed off towards Nossob. The road is about 200km and was pretty awful, ranging from thick sand, small dunes to climb over and terrible corrugations. We arrived at Nossob about 6pm and as we expected they found us a place to camp. Nossob camp is fenced and quite civilised with fuel, hot showers and a shop, along with quite a few people. We finally heard lions during the night which was fantastic!
The drive across somehow managed to destroy our battery system so we could no longer start the car using the primary battery. If we joined both the primary and secondary batteries it would allow us to start, we just needed to make sure the fridge did not drain the second battery too much. This is pretty much what happened when we had to replace both the batteries in Nairobi, and given that they are only about 2 months old I am quite sure it is an issue with the battery management system and not the actual battery. Oh well, it only has to survive a few more days and it will be back in Johannesburg and Bushlore can get it seen to.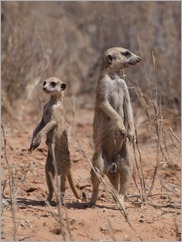 The next day we drove south towards Twee Rivieren with the hope of camping at Rooiputs (which is in Botswana and therefore a rustic bush camp). Luckily the camp attendant was on holidays, so we picked a spot and waited to see if anyone would show up. As it turns out a couple we helped to jumpstart their car in Mabua had left us a note as they had told us they were not going to use their booking for the previous night and we were welcome to take their site. We had already paid for a Botswana campsite in Mabua for the night so we were just moving camps (if there was one free). No one showed up and we spent a nice night at Rooiputs as we waited for the lions to come through camp as people told us they have never been to Rooiputs and not had lions in camp. You guessed it, no lions showed up! We didn't even hear one.  On our way down though we did see 2 lions off in the distance so I guess that was something.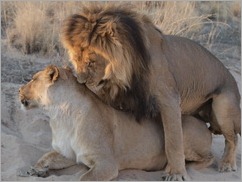 We headed back up to Nossob where we spent the next 2 nights. On one of our drives we got to see 2 lions mating. Man do they make a lot of noise! We also saw 2 lazy lions chilling out under the tree beside the road, as they usually do. Finally we managed to see some Meerkats for the first time which were very cute. Other than that the game was still fairly sparse, although definitely better than in Mabua. No more lions were heard, just hyena and jackals.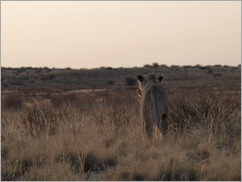 Our last night was supposed to be at Twee Rivieren, another fenced and civilised camp, but we were hoping to be able to stay at Rooiputs again. As we were about to leave Nossob, Alan (who we had met in Mabua) arrived and invited us to share his camp in Rooiputs – fantastic! We headed south again and on the way saw 2 lions with their gemsbok kill lying under a tree. They were both very full and their faces and paws were covered in the blood of the gemsbok. Yet again no lions were seen in camp although we were told that a lion parked itself between the shower and toilet for several hours the night before in the camp we stayed at a couple of days prior – typical. We did hear them during the night along with hyena. We also saw our first african wild cat, which looks just like a regular cat.
During our time in the park we managed to see red hartebeest, gemsbok, springbok, brown hyena, dik dik, ostrich, wildebeest, steenbok, lion, ground squirrel, meerkat, black-backed jackal and african wild cat. It is a great park and we will need to visit it again and see if can we find a few more of those lions.