Vehicle – To Buy or Hire?
Choosing a vehicle was one of the first decisions we had to make. We investigated a number of different options and approaches that would fit our needs for our time away. The options we considered are:

Option 1 – Buy a Vehicle Here
Buying a vehicle here, fitting it out and shipping it over to Africa would have allowed us to practice our 4wd skills on the vehicle we would be using. We would have been able to do test runs on the fitout and tweak it until it suited our needs. Unfortunately we would have had to purchase an older model (which in some ways is a good thing as there is less to go wrong). Neither of us are mechanical, so it would have taken a lot of research and time to work out what modifications, replacements and fitout we would need. No doubt because of our lack of expertise it would have cost us more than it should have. Add to that the fact that it would probably cost us about $10000 AUS to ship it there and back, and then the hassle of customs etc in South Africa and customs and quarantine to get it back into Australia, and it just became all too hard. This though, would have been our ideal option if we had the time and skills to make it work.

Option 2 – Buy a Vehicle in South Africa
Our next option was to buy a vehicle when we landed in South Africa. With only 6 months though, we would have wasted the first month sourcing the vehicle, fitting it out  and organising all the paperwork. We would then have needed to sell it at the end, which meant that we either ended our trip earlier, one of us stayed at the end until it was sold, or we took a much lower price in order to sell it quickly.
Alternatively we looked at buying a vehicle already kitted out in South Africa whilst we were still here. That way it would be ready for us when we landed, but we decided there was too much risk involved buying something sight unseen and no one on the ground to help us. We would still have the problem of selling it at the end of our trip, although one company we spoke to did say they would help us with the sale.

Option 3 – Hiring a Vehicle
This is the option we have chosen to go with, and hopefully our vehicle will be similar to the one in the photo. We are guaranteed a vehicle less tha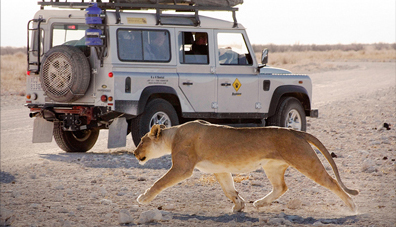 n 12 months old, although that could be a bad thing as there are electronics to go wrong, but at least mechanically it should be reliable and nothing really should be worn out. It comes completely fitted out, and the company has included a number of extras that we have asked for, leaving us very little to do when we arrive, so we can start our holiday as soon as we land. Most importantly for us though, it gives us a contact point to help us if anything major (or minor) goes wrong. Given that we aren't mechanical it gives us some peace of mind that if we are stranded in the middle of nowhere we will be able to use the sat phone and get in contact with someone who can organise someone to come and help us. It has also taken away a lot of the hassle involved with purchasing and fitting out a vehicle, which would have taken months and months to sort out. We researched and spoke to a lot of people before choosing the company we have gone with, and by all reports they seem to be reputable and reliable. I guess only time will tell!