After stocking up and spending the night at Pioneer Camp in Lusaka we headed for the Zimbabwe border. Neither of us were particularly looking forward to the border crossing at Chirundu as we had heard it was busy and were likely to get hassled. What a pleasant surprise we had! Chirundu is a one stop border post so you do everything to exit Zambia and enter Zimbabwe all in the one building rather than 2 separate borders and numerous buildings to find. The one stop building is actually on the Zimbabwe side and the Zambian buildings are still there, just not in use. There were heaps of trucks parked but when we entered the building there was not a soul there – could we be that lucky? There were also clearly marked counters and even a sign telling you what order to do things in – both of us were stunned! We quickly completed everything with no hassles whatsoever, not even a problem with Interpol which we had heard horror stories about and were out of there quite quickly. If only other borders could be so simple. When we got back to our car the damn baboons had got on the roof of our car, undone an ocky strap, unclipped the lid of our washing bucket and taken it off and then went through everything in the bucket. Nothing was missing but they are a nuisance.
So the border crossing sorted it was on to Mana Pools. We arrived at the gate to be told we needed a permit however the office was only a few kilometres away so it was no problem. This permit is a free one, is handwritten and we are not quite sure what its purpose is but anyway it seemed to make everyone happy and we entered the park headed for Nyamepi Camp.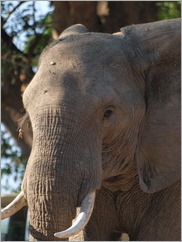 The road in is not the best as it is badly corrugated and there is not much to see on the way in but it was more than worth it. Nyamepi Camp is situated along the banks of the Zambezi River with shaded campsites, hot water showers and flush loos. The camp was fantastic. Just about every animal we saw whilst driving walked right past us whilst we were in camp, most of them just a few metres from us. We had buffalo that in the end became quite annoying as they would frequently walk within metres of us making us get up and move until they had meandered past. The hyenas would also walk past us several times each night, but on one particular night after we had had a barbecue they were coming to our camp every few minutes and this time not walking past but heading straight towards us and the barbecue until we shone the torch at them and they diverted away. Elephants visited every day walking within metres of us as did warthog, kudu, baboons, impala and once even an eland came within a couple of metres of us which was very surprising seeing as they are near impossible to get a photo of as they run away. We had a hippo that came and ate very noisily right next to our tent every night. During the night we heard lions, hyenas, hippos and elephants. After 4 nights though we were both somewhat sleep deprived as we never got a sound night's sleep!
Whilst there aren't a great deal of roads to drive on around the camp you barely need to as most of the game walks right past you in camp. The highlight would have to be finding a pack of Wild Dogs for the first time on our whole trip. They were very lazy though and just laid in the shade. We have only seen Wild Dog one other time in Botswana last year so it was pretty cool. Our game sightings included: impala, baboon, kudu, buffalo, zebra, warthog, elephant, waterbuck, hyena, vervet monkey, hippo, eland, crocodile and wild dog.
Mana Pools is definitely worth a visit. It is not expensive as your park entry ($70 total including the car) lasts 7 days so the longer you stay the cheaper it gets. The campsites are $100 on the river or $20 per person back from the river. We had campsite 19 which is back from the river yet we had a clear view of the river in both directions and were probably only 50 metres from the riverbank. It was a perfect place to relax for a few days and watch the world go by.