With some trepidation we turned up at 8am as instructed. If we did get on we had visions of crammed, smelly bodies; horrible toilets; what would the food be like; how would everyone sleep. As it turned out it was perfect! There were only 3 cars making a total of 6 passengers with 10 crew to look after us. It was like having our own private yacht to cruise down the lake. We spent a very pleasant day chatting to the other passengers, reading, playing games and spotting wildlife when we came close to some islands. The food was simple but excellent and plentiful. We had morning and a
We needed to get from Mana Pools in the north of Zimbabwe to Hwange National Park in the south and there were 4 options.
1. Go back to Zambia, drive south and enter ZImbabwe at Vic Falls. This way I think was the shortest but it meant we would need visas again for both Zam and Zim and at $50 each we decided against it.
2. Drive to Harare, then to Bulawayo and then up to Hwange. This was the way the locals advised as it was easy tar road but was quite some distance. Naturally we didn't like this option.
3. Drive down the eastern side of Lake Kariba through Zimbabwe. This was a viable option and would take us 2 long days (hopefully) over some roads of unknown status but it would be more interesting than sticking to the tar.
4. Take the ferry down the lake from Kariba to Milipizi which would then leave us a short drive to Hwange. This was expensive ($420 for 2 people and the car), dependent upon when the ferry left and also whether it had a space for a car over 2m as it has only 3 such spaces but was also a viable option.
We arrived in Kariba on a Sunday and tried to find out about the ferry. After asking at one of the camps without success we decided to find the ferry terminal. The terminal was down a back street and there was just a guard at the gate. He informed us the ferry would leave the following day and gave us a phone number to try. The guy we rang was fairly certain it would have space for our car and told us to turn up at 8am the next morning. So we decided what the heck, we will spend the money and have a relaxing 24 hours on the boat leaving us just a short drive to Hwange. If there was no space we would travel the eastern side of the lake.fternoon tea, snacks before dinner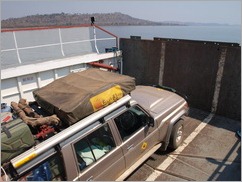 as well as breakfast, lunch and dinner so we definitely did not go hungry. The boat even had showers and clean loos. To sleep you had a choice of a thick mattress on the floor or a fold out chair bed. We had planned to sleep out on deck but they had to leave the navigation lights on and it was just too bright so we slept inside. We opted for the mattresses which were quite comfortable but the engine noise made it a little difficult to sleep. All in all it was quite a pleasant way to travel the distance although it would not be so good with more than 15-20 people even though the boat is reasonably large.
Kariba was much smaller than either of us expected and was more like a ghost town. Whilst there we tried to find some food to stock up with before we hit Hwange. There are 2 small supermarkets, neither of which had a great deal in them, the veges were not particularly good and there was no way I was buying any of the meat. We found the local market which was much better quality although there was not a lot of variety – tomatoes, potatoes, onions, spinach, avocados and bananas were pretty much it. I wanted some pumpkin and some lettuce. One lady sent a boy home who then brought back a huge pumpkin, cutting a chunk for us for $1. Another man said he had some cos lettuce on his farm and if he gave me an hour he would get it for me. I asked him how far away it was and seeing as it was only 3km, offered to take him there (I couldn't ask him to walk there and back for a lettuce that cost a whole $1!). So he rode on the side steps of the car and directed us to his farm which he proudly showed us around when we arrived. He cut us a huge lettuce as well as a few small leeks before we took him back to the market. Just like shopping at home!