Whilst on the ferry we managed to book some campsites in Hwange National Park. Problem was the ones we booked were much more expensive than we had planned and that meant we did not have enough cash to pay for them. First mission once off the ferry was to find an ATM which was easier said than done. Hwange, which was 50 km away, had numerous banks, but only 1 ATM which never works. None of the banks would let us take out money over the counter using our Visa card. Hmm the only other place to try was Vic Falls, another 100km away but we didn't have much choice so off when went. Of course when we arrived the only ATM we could use was broken! Great. We sat and waited and eventually it was up and running again and we got the cash we needed. Just a minor 300km detour for some cash!
We spent 4 nights in Hwange National Park, the first of which was at Main Camp. The camp is large and dusty with a fence around it, although the fence was broken in parts so we had some kudu in camp but that was it. During the night we heard hyena and lion. There are a number of ablution blocks but none of the ladies had a shower in them. Instead they had 2 baths – how ridiculous! It didn't really matter though as none of them had any water to shower anyway. Once again we used our own hot shower.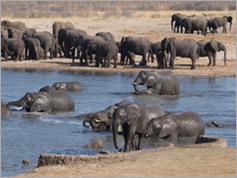 The first afternoon we drove the short distance to Nyamandhlovu Pan and spent the entire afternoon in the elevated hide there watching the goings on at the waterhole. We must have seen hundreds and hundreds of elephants come to the waterhole to drink and play. There seemed to be some sort of hierarchy as some groups would happily drink beside other groups but sometimes when a new group arrived the first group would move away. They would drink then either swim or spray themselves with mud and finally wander off again into the bush. There were quite a number of really tiny baby elephants that must have been just a few weeks old and were very cute. Zebra and giraffe also came to drink but were easily scared away by the huge numbers of elephants. It was a very pleasant way to spend the afternoon.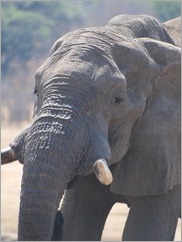 The second night we spent at Ngweshia Camp, an exclusive campsite which is a picnic area during the day but a campsite you have all to yourself at night. It is fenced so no animals come into the actual camp during the night, but it is right next to a waterhole so there was plenty to see. There are clean toilets, a cold shower and shelters. Once again we spent the afternoon sitting beside the waterhole, which we had all to ourselves, and watched the animals come and go. There were large groups of elephants again as well as roan antelope, zebras, black backed jackals, giraffe and kudu. An elephant walked from behind and passed us within a few metres and we didn't even know he was there until he was halfway past. Another came towards us so close eyeing us off that I got up and jumped back in the car. At night the elephants were sooooo loud! They trumpeted, rumbled and made one hell of a ruckus for most of the night. We laid in our tent and looked out over the waterhole at night and watched the silhouettes of the elephants come and go – during a full moon with lots if light it would be fantastic. It was an excellent place and it would have been good to spend a couple of nights there.
Our third and fourth night were supposed to be at Masuma Dam, another exclusive campsite. Not long after we arrived though another group turned up and said they were supposed to be camping there. Hmmm something wasn't right. Sure enough they had messed up our booking and booked us at Shumba rather than Masuma. In the end we stayed at Deteema Dam which was one third the price, has a great hide, is much closer to the waterhole than Masuma and we had it all to ourselves anyway. I think it is the better option anyway so it was actually a good thing they messed up.
Heaps of elephants came and went as usual throughout the day. At one point I counted at least 70 of them all around the waterhole at once. Various other animals came to drink such as buffalo, giraffe, zebra, warthog, kudu and impala. The elephants here were quite bizarre. Numerous times entire groups would suddenly freeze as if someone had pushed the pause button. They would stop drinking, flapping their ears, swaying their trunks and moving altogether. The first time it happened I thought I was having some sort of hallucination or there was something wrong with me as you never see all the elephants completely freeze at the same time. It was most bizarre! We had a great view of the waterhole from our tent so during the night and in the morning we laid their and watched the waterhole, such a hard life!
Hwange was a great park to visit. The entry fee is cheap and lasts for 7 days and there are numerous campsites to stay at. You do though have to find a waterhole and sit at it as there is not a lot of game to be seen whilst driving through the park. On our travels between the campsites we saw hardly anything at all, but there was plenty happening at the waterholes. If you can stay at one of the exclusive or smaller camps, in particular I would recommend Deteema Dam as it is really small so not too many people can stay there,, has a great hide, is really close to the waterhole and is kept spotlessly clean by the camp attendants Augustine and Richard.