After spending the morning in Tarangire National Park we headed for Lake Manyara, about an hour away. Lake Manyara National Park is on the tourist route to Ngorongoro Crater and the Serengeti and the town immediately before it is full of tourist shops. We stopped in the town to buy some veges and you could tell we were on the tourist route as they tried their hardest to charge us super inflated prices. Originally the guy wanted 8000Tsh for a kilo of potatoes – not likely when they should be 1000-1500Tsh. After much discussion, telling him there was no way we would pay that, him trying to tell us he has to add freight etc etc we finally agreed on 5000Tsh ($3.30) for a kilo each of  potatoes, tomatoes and onions which was really still a bit too much and we didn't get a full kilo of everything, but we needed some veges.
We arrived at Lake Manyara National Park just before 4pm, as did every other tour group in the vicinity! It seems that the tour groups only spend a couple of hours here in the afternoon. It was like peak hour traffic, at times we could not move forward as there were so many cars stopped. This is probably the first game park for a lot of people as they travel from Arusha, so they understandably stop at everything but we don't really need to stop and take photos of a giraffe off in the distance, so it was a bit frustrating. Once they started to head back to the gate before closing it was much more pleasant.
We spent the night in the park, but unfortunately didn't hear or see anything. The amenities though are the cleanest and nicest in any national park so far (excluding Kruger and Etosha) even if they were still only cold water showers.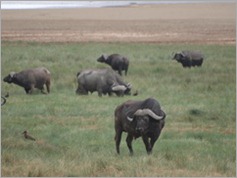 The lake itself does not have much water in it at the moment and you can rarely see any water at all, and then only when you can get a view above the lake. The road travels along the edge of the lake when it is full, but given there was little water it was more like a grass plain. The animals are not very plentiful except for the plains near the main entrance and hippo pool, which is also where all the tour groups spend their time. We did see though zebra, wildebeest, elephant, giraffe, warthog, hippo, olive baboons, vervet monkeys, blue monkeys, impala and buffalo.
In hindsight, the park was really not worth the money and we would have been better off spending another day in Tarangire. Maybe when the lake is full and apparently it is covered in flamingos it might be better.