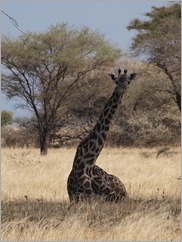 We left Marangu without seeing Mt Kilimanjaro, maybe we will see it from Kenya. Our original plan was to visit Arusha National Park and then spend a couple of nights in Arusha. When we arrived at Arusha National Park their EFTPOS machine was not working, which meant we could not pay with our debit or credit cards as they had no manual method to do so. The only way to pay was with $US and as our $US is our visa, crater and emergency money, we decided that this was not an emergency and instead we would head to Tarangire National Park. So after a quick stop for lunch, groceries, money and fuel in Arusha we headed to Tarangire.
Tarangire National Park was not originally on our plan, but we were both very glad we visited as it was fantastic. The park has heaps of animals at this time of year and a variety of landscapes to make it interesting. We camped 2 nights inside the park and heard lions, wildebeest, impala and ostriches. A couple of dik-diks came right into camp and around camp we could see wildebeest, impala, zebra and giraffe.
There were thousands of wildebeest and zebra and hundreds of elephants. Our animal sightings included lions (about 15), cheetahs, grants gazelles, impalas, warthogs, giraffes, buffalos, black-backed jackal, baboons, ostriches, waterbucks, bushbuck, elands, banded mongoose, dik-diks, a leopard tortoise and heaps of birds.
One of the highlights was watching some elephants. We could see a large group heading for the water so we parked our car in their path and waited. They marched down the hill with their ears flapping and bodies swaying, looking like an army going into battle, stopping about 100 metres from us whilst they checked us out. After determining we were no threat they continued on with half of them going around the front of our car and half behind. We could have just about reached out and touched them – very cool. There were about 30 of  them in the herd, including some babies, and we watched them as they drank and played in the mud, having them all to ourselves. We also watched a few groups of elephants as they dug with their trunks in the sand of the dry riverbed to get to the water.
The only negative thing about the park is that there are heaps of tsetse files, although not in the camping area. I have been bitten 3 times by them now, and each time I get a hot, swollen lump 2 days after they bite me. On my ankle they made my whole ankle sore and on my elbow it made my whole arm ache, so I'm not a huge fan of them. Wayne though has no reaction whatsoever except for the little sting when they bite you – definitely not fair, especially as I had long sleeves, long pants, shoes and socks on and they still managed to get me!
At this time of year Tarangire is definitely worth visiting and in our opinion is far better than Lake Manyara which is also close by.