Leaving Bagomoyo we headed further north along the coast to Pangani where we spent 2 nights at the Peponi Beach Resort. It is hard to believe it is the middle of winter as it was so humid and hot there.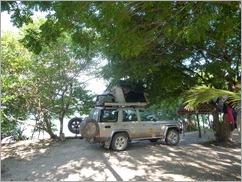 Our campsite was literally on the beach – we were about 5 metres from the water at high tide and thankfully the sea breeze blew through our tent to cool things down at night. There are really hot, clean showers and a restaurant that serves nice, cheap meals. We had a seafood platter for 2 for 28000 Tsh ($19) which included a whole lobster, fish, prawns, calamari, octopus, salad and chips.
We also did a snorkelling trip in their dhow for $12 each. The dhow took us to two snorkelling sites and then to a sand island, that disappears at high tide, for lunch. The snorkelling was pretty good, although some of the reef has died, but the water was warm and clear and it was an excellent day.