We left Kilwa Masoko and headed north to Dar Es Salaam. Thankfully a large section of the horrible road had been graded the previous day, so whilst it was still bad it was nowhere near as bad as it had been on the way in. The crazy buses were still in abundance, and I am sure they would make world class rally drivers as they throw the buses around on the dirt, weaving all over the road trying to get the smoothest path then hammering it around the bends with the rear end eventually following.
Instead of heading straight to camp we decided to head into Dar to get fuel and do some shopping. We found a Shoprite, a large well stocked supermarket chain, which was a welcome change. It was great to be able to wander down the aisles and buy things we had not been able to for some time and at reasonable prices, even meat. After stocking up and fulfilling our westernised, civilised shopping needs we headed across the ferry to camp.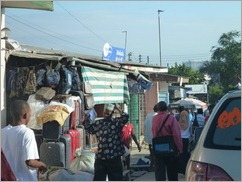 We spent 3 nights at Kipepeo Beach Resort which is just south of Dar Es Salaam, requiring a ferry crossing to go to Dar. The resort is quite nice with a bar and restaurant, free wifi and a grassed camping area, although the camping area could be bigger given the large number of overland trucks that come and go (although they do only seem to stay one night on their way to and from Zanaibar). The showers were once again cold, but it is so warm that the chill is taken off the water by the sun shining on the tanks, so it wasn't so bad.
When we arrived Natalie and Paul were there whom we had met previously at the camp outside Selous. There was also another couple there that we had met at Cape Maclear, and then Tim and Ania whom we had met at the Riverside Camp at Iringa sent us a text saying they would also be joining us.
The first day we had booked the car in at Toyota to be looked at. We left camp at 7am thinking that would give us plenty of time to be at Toyota early. Wrong assumption! Whilst the total journey was only about 10km, we had to cross using the ferry. It took 2 hours before we were actually on the ferry, which is about 7km from camp, then we had to get through Dar. It took us 2.5 hours to arrive, and when we got there and explained we had booked the car in and what needed to be done we were told there was no way we would get the car back the same day, which is not an option given it is our home! The service area had probably 50 or more cars parked around the place so I'm not surprised they said it would take more than a day. After some discussion with the service manager, who thankfully turned out to be very helpful, our car was taken straight to the workshop and work started on it. Our front left diff lock has not been sending power to the wheel when engaged and has been a bit of a pain when we have been stuck. The service manager looked at it and thought it was an electronic motor and told us it would take 6-8 weeks to get a part, but they would take it apart and have a look. Thankfully it was not electronic and a clip had come loose inside which they were able to fix, so hopefully if we get stuck again it will work properly. The knocking we have had since the start in the front left wheel was also fixed by replacing the bushes on the stabiliser bar. Both repairs were done inexpensively as the labour is cheap, so it was a pretty successful trip.
Tim and Ania had volunteered to come into Dar and pick us up from Toyota so we could both do some errands whilst our car was being serviced, something I think they may have regretted afterwards as it took all day! They also got stuck trying to get on the ferry but they finally made it and we headed to the Milani shopping centre. The traffic was terrible, although it was interesting to see what was going on around us. About 30 mins after we had left Toyota they rang to say they needed the remote for the car (even though they had told us they didn't need it) so we had to turn around and go back – an hour wasted sitting in traffic. Off we went again through the traffic, finally making it to the shopping centre where we had some lunch and a quick visit to Game and Shoprite before we had to head back to Toyota to make sure we would be back there by 5pm given the traffic.
We spent the following day relaxing in camp and on the beach. I even went swimming in the middle of winter! The water was warm and clear although there were a number of jellyfish around so we really only just paddled in the shallow water as we did not relish the thought of being stung. The nights were pleasantly warm although there were a lot of mosquitoes around. It was quite a nice place to take a few days out from travelling.