Before leaving Iringa for the National Park we desperately needed to stock up on things. Following the directions given to us at Kisolanza Farm, we found the Iringa Service Station just before the turn off to Iringa, which sells things from the dairy and the bakery. We bought a fresh loaf of bread for the first time in ages, and I visited the dairy just behind the service station (although you can buy things in the service station) and bought FRESH milk and yoghurt. We have not had fresh milk for weeks and weeks, and if you know me you would know that I love my milk. The milk is absolutely delicious!
Next stop was the fruit and vegetable market next to the police station. I have never been so excited by vegetable shopping in my life! The market was FULL of wonderful fresh vegetables, and when you have not been able to buy much at all for weeks it was heaven! The locals were all very friendly and did not hassle you at all, and on top of it they were not trying to pull "white person" prices. For the grand total of $5.20 I bought: a kilo of potatoes, a kilo of rice, an avocado, 2 capsicums, 2 garlic bulbs, 1/2 kilo of tomatoes, 1/2 kilo of onions, a huge handful of chillies, 1/2 kilo of fresh shelled peas, and a large head of broccoli (and the broccoli was $2 of the $5.20). A definite bargain if you ask me!
After a quick trip to a supermarket, where I could finally buy some cheese (another thing I have been trying to buy for weeks), we headed out to Ruaha National Park. The road is OK but not terrific, passing through numerous villages. We saw our first Masai men along the way. When you get closer to the park you will get to a junction where both ways go to the park. We took the left fork, but the road got worse. (On the way back we took the right road, and apart from an initial part which is badly corrugated, the road is much smoother dirt, does not go through any villages and you will not see another person or car the whole way).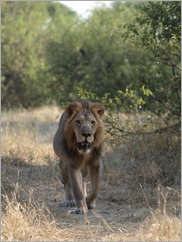 Arriving at the park gate we went to pay our fees. A simple exercise you would think. First option I tried was to pay in Tanzania Shillings – how stupid of me to assume they would take their own currency?? Next we tried US dollars as that is what they quote their prices in. No they couldn't possibly accept cash, we must pay with a credit card. As I did not want to use our credit card I told them we didn't have one and after much discussion he agreed to accept cash if I signed in blood and wrote a letter saying I did not know I had to pay by credit card and I wouldn't do it again. (Oh and whilst they wouldn't take payment in shillings, if I paid in $US then the change would be in shillings – only in Africa!)
Finally we made it inside the park. The animals at the moment tend to congregate around the river which is about an hour or so from the gate. We saw heaps of elephants in the river in the afternoon, along with the usual hippos. This morning we saw 5 lions just walking along, which we followed for some time and then another lion lazing in the sun. There was also a giraffe that had been killed the day before (we met some people who saw it and said there were 28 lions feeding on it) that was covered in vultures. Our animal sightings also included giraffes, warthog, kudu, impalas, baboons, zebra, a dik-dik, and a black-backed jackal. The park is quite scenic and there were lots of animals.
Our original plan was to stay at Chogela Camp outside of the park, but as it was 25 minutes to the gate and then another hour or so to the river, we decided it was better to spend the $US60 and stay in the park itself rather than going out and coming back in again this morning (park entry is a 24 hour period). The camp is in a great spot, literally on the riverbank, but the facilities are typically basic with cold showers and flush toilets that are cleaner than usual but were still in need of attention. During the night I was woken up by a splashing in the river and when we looked outside there was a hippo eating and sloshing in the mud very close to our tent which was pretty cool.
Our campfire cooking skills have definitely improved and we had a most delicious dinner of barbecued sirloin steak with roasted baby potatoes and onions with garlic and rosemary and fresh peas. Excellent!