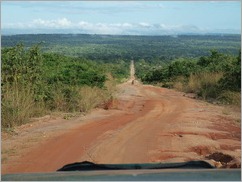 We had read good things about Pangane, so decided we would make the trip further north to check it out. Reviva, Peter and Ed, who we had first met at Nacala and then again at Pemba, also decided they would head that way. Our original plan was to take the coast road north, but everyone told us the road would be dreadful as it hadn't been graded yet after the rains, so we took the easy option and travelled the inland tar road north. The road up until Macomia where we turned right towards the coast was in good condition most of the way as we passed through villages. There are definitely less people the further north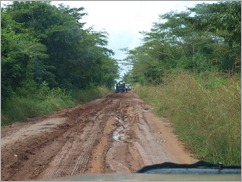 you head which makes driving a little easier. The road to the coast started as sandy dirt which was hard and fine. About halfway the road became very slippery, although still firm. Then we came across some trucks, carrying the usual packed load of people in the back, having difficulty climbing a hill that was very, very slippery and sloshy mud. We waited at the bottom of the hill to see whether the trucks made it and so we would not have to stop on the hill halfway. The first truck kept sliding sideways and getting stuck, but no one got out of the back of the truck to help or lighten the load! Some guys in the back of the second truck got out and pushed the first truck back on the right track and to help get it out of the mud. They both eventually made it to the top so it was our turn. With fingers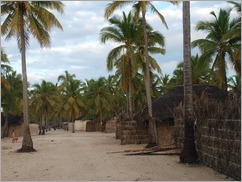 crossed we started, really hoping we would make it as I definitely did not want to have to get out in the thick mud! We crawled up the hill, not sliding but at times we were barely going forward and at one point I thought we were stuck, but slowly we made it to the top and firm ground again. Thank goodness! The track then was firm sandy dirt again until about 10 km from Pangane when it became softer sand, but was quite manageable. We drove through coastal villages, weaving our way through the palm trees with the ocean just beside us. It was really quite a scenic drive.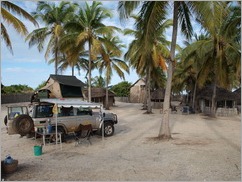 Our destination was Hashim's Camp which is at the very end of a small peninsula that juts out into the ocean, at the end of a quite large village. It was basic to say the least, but Hashim was very pleasant and helpful. We parked our car on the sand in the middle of the palm trees about 50m from the water. Not a bad location if you ask me. The toilet was merely a toilet bowl in the sand, flushed with water scooped from a larger container and with a reed wall around it. The shower was a dribble from a drum overhead or water scooped using coconut ladles from a container. It didn't matter that the water was cold as it was pretty warm, even though it is winter. Hashim also organised our meals for us both nights we stayed. We had a feast of crayfish, different types of fish, octopus and local Pangane coconut rice for the huge cost of about $6 each, definitely a bargain!
The weather had started to become overcast as we made our way towards the coast, not the perfect tropical beach weather. When we arrived it was still overcast and a slight wind had started, and it looked like rain. We took a stroll along the beach to check out all the fishing boats and see what the locals were up to. The men were mending an absolutely huge fishing net on the beach, whilst others were working on the boats. One man was caulking the joints between the planks in the hull of a boat by jamming wads of cotton into the gaps. Everyone we met was really friendly and happy.
By about 5.30pm the rain had started and the wind had picked up. By 6.30pm it was pitch black, the rain was heavier and the wind was howling. Thankfully there are some "rooms" at Hashim's that have a covered verandah on them, so all of us huddled under there to eat our dinner and try and stay dry. The roof did leak a little but it wasn't too bad. After dinner, at the first break in the rain, we all ran for our tents and scrambled inside. The rain eventually stopped, but the wind howled for a large part of the night, although nowhere near as bad as the night we had to endure at Kamieskroon. The tents survived with no leaks and we woke to a beautiful morning with no wind and sunshine. Perfect!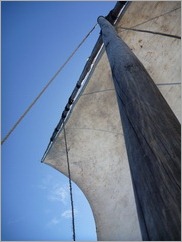 Hashim organised a dhow to take us out on the water for a few hours. The water is perfectly clear and a beautiful turquoise colour and was just too inviting so Ed, Wayne and I decided to jump over the side for a refreshing swim. The water was lovely and warm, and anyone who knows me knows the water and the weather have to be really warm before you will see me in the water! Now the challenge of getting back on the dhow – hmmmm. Wayne managed to get up first without too much trouble. I tried, but there was no way on earth I was strong enough to haul myself up over the side that was quite a long way above the water. Wayne tried to pull me up, no luck. Next plan, Wayne pulled and Ed pushed and eventually I was balanced on my stomach on the edge of the boat. By now everyone, including myself and the dhow captain were in hysterics. I stopped laughing long enough to manage to slide myself on my stomach over the edge and into the bottom of the boat like a beached whale – an extremely glamorous way to get onto a boat! At least I managed to provide some entertainment value for everyone! They rigged up a rope to help Ed get in the boat and he managed without too much problem as well. (Later we all went swimming again, and this time we all used a rope to get back in, but still Reviva and myself did not make a particularly elegant landing back into the dhow!).
I think Pangane is a lovely spot and I'm glad we made the effort to visit. Yes it is primitive, but it is like being shipwrecked on your own tropical island. Yes it is a fishing village and there is some rubbish on the sand, although not a lot. Yes there have been things stolen from previous campers and Hashim is very conscious of security and ensured we locked everything up (none of us had any issues). It was a mini adventure and we had an excellent time and Hashim is great.