Tonight is out 5th night in Kruger and it has lived up to its reputation of abundant wildlife and a wide variety. We have seen the following animals whilst we have been here (at least these are the ones we can remember), as well as a heap of birds:
| | | | | |
| --- | --- | --- | --- | --- |
| lion | elephant | rhino | cheetah | giraffe |
| kudu | nyala | grysbok | impala | buffalo |
| steenbok | waterbuck | tsessebe | wildebeest | civet |
| hippo | crocodile | hyena | warthog | spotted genet |
| baboon | vervet monkey | zebra | ostrich | toad |
| leopard tortoise | squirrel | springhare | bush hare |   |
The first night we had to pretty much drive without stopping in order to make Letaba camp before the gates closed at 5.30pm, but we did manage to see a couple of elephants on the way. We also saw what we think was a leopard. It walked on the road directly towards us for a couple of metres then darted off into the bush. It was definitely a cat and definitely had spots and the others that saw it thought it was a leopard as well. Not a bad start!
We have finally seen quite a few elephants whilst we have been here, including a few not so happy bulls in musth (this is when they are ready to mate and search out the females and they get a bit cantankerous). One of the bulls made us back up a bit to get away from him, then after we had got past him he forced 2 other cars back a few hundred metres. Where he was there was a family of elephants, including little ones, that we were watching – all the time keeping an eye out the back of the car for the cranky old bull. They were very cute to watch, especially the little ones.
Our second night we camped at Balule, which is a satellite camp. As such, it only had 15 sites and no electricity. The ablutions were lit with kerosene lamps and each site was on the camp fence which made it much more rustic and bush like than the larger campsites. Whilst we were there for lunch I heard a loud crack of a tree and knew an elephant was very close. Sure enough just a few metres away there he was. He was not particularly happy that Wayne and I were standing maybe 3 metres from him so trumpeted and swayed at us. Needless to say I backed up, but Wayne stayed there. Yes the camp has a fence around it, but if an elephant decided it wanted to push through I am sure it could without too much trouble. I
n the photo you can see how close he was to the fence!
Our third night was back at Letaba and we decided to do the night drive. We saw a few animals including a couple of new ones, but nothing terribly exciting. It is interesting to do the night drives though and our guide was extremely knowledgeable.
Our fourth night was at Shingwedzi camp. Again our campsite was right on the fence and we saw a spotted genet and a civet. The civet is a really beautiful animal about the size of a small dog, with a white and black coat covered in spots and stripes. It came right past the fence 4 times whilst we sat there. Very cool!
Tonight we are camping at Punda Maria. We are on the fence again tonight, so who knows what we might see. I doubt it will be much though as the wildlife seems to be more dispersed the further north you go, however we did manage to see Nyalas and Grysbok today which we have not seen before. They also have cheeky monkeys in the camp. We were sitting at lunch and heard this loud noise from inside the car. It was a damn vervet monkey who took off with yesterday's loaf of bread. We should have known better as we knew they were around, but forgot to close the car doors. That is the second time now a monkey has managed to take something. The first was in Addo when a monkey came out of nowhere and took the bananas from the table.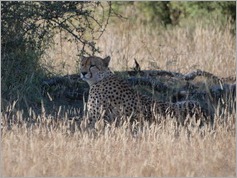 The highlight of our time here has to be our 2 cheetah sightings. The first time there were 4 of them. They sat on top of a hill in the grass for quite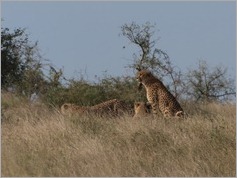 some time and even though they were a reasonable distance away we could still see them and through the binoculars they were spectacular. We then saw a cheetah lying about 12 metres from the road. Now that was awesome. They are huge, almost as big as a lioness, and just beautiful creatures.
We have both enjoyed our time here and are thinking we may spend our last few days in Africa back here, especially down the south where the animals are meant to be even more plentiful.