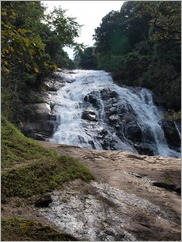 After our morning game drive in the Khama Rhino Sanctuary, we headed off back to South Africa. The border crossing was simple and we both wished that all the crossings to come could be that easy! The day was pretty uneventful until we got closer to our overnight stop of Mokopane. As it was election day, for some reason the South African government declared it a public holiday, so there were people around everywhere. On the outskirts of town there were large settlements, although they had decent, small houses with reasonable sized land. I made the comment that it looked like a version of Soweto, but with a larger number of decent houses. We felt safe, but were on higher alert. On the way to town the road was blocked and we could see a large crowd and lots of lights flashing. It turned out to be a road accident with police and ambulances in attendance and a significant crowd had gathered to watch as if it was their afternoon's entertainment. I was initially on edge until we realised it was a road accident and police were directing traffic. We then arrived in Mokopane itself. I instantly got the feeling there was something not quite right about the place and I felt uneasy. Every time we stopped at traffic lights I was nervous. At the last set of lights we stopped at 2 young guys tried to open the rear passenger doors of our car. Luckily we drive with the doors locked, especially so if we feel uneasy or there are people about, so they were unsuccessful and we drove away. I had had enough by then and wanted to get out of the town instantly even though we had not yet found our overnight stop so we found the road out of town and left. It turned out that our overnight stop was about a kilometre down the road out of town so we pulled in to check it out. We stayed the night at the Mokopane Breeding Centre as we originally planned as it had security and high fences around the entire premises and we felt safe. After speaking to the people that run the place, it turns out that the traffic lights where they tried to get into our car is known for people trying to grab things off the seats of vehicles, so we were lucky our doors were locked. My initial instincts were absolute right! We had a brief look around the breeding centre, which breeds animals for Pretoria Zoo.
First stop this morning was the supermarket as we were low on supplies. In Pietersburg we managed to find the biggest and newest supermarket that we have seen since we first stocked up in Johannesburg. It was a luxury to have great meat and vegetables to choose from as well as anything else we could possibly need. I doubt we will encounter such luxury for quite some time!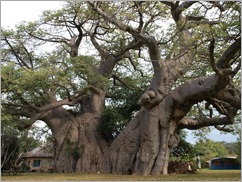 We decided this morning to head off to Kruger and see if we can get in a night earlier, which meant we needed to be at Phalaborwa Gate by 4pm at the latest to make the camp gate closing time. We still had time though to drive via the Magoebaskloof Pass and drop in at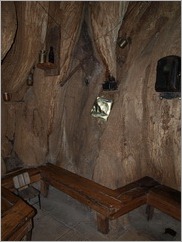 Debengeni Falls and the Sunland Baobab Tree. The falls are quite pretty and worth a quick detour if you are passing by. The Sunland Baobab is also worth a look. It is supposed to be 6000 years old and the biggest baobab tree. Actually inside the tree a small bar has been created which is pretty unique.
We made the gate by 3.45pm and managed to secure the last campsite at Letaba, although in true African style, the campsite probably had one third of its campsites vacant even though the computer system said they had none. Very frustrating if you can't get in when you know there are vacant sites. We will spend the next 5 nights exploring Kruger.