After one final game drive we left the Central Kalahari and headed towards Rakops for fuel and if we were lucky, some meat. As you can only take chicken through the vet fence into the Kalahari, after 4 nights we were a bit over it. No such luck, so pasta with veggies and tinned spam for dinner then, which is not as bad as it sounds, just add a bit of chilli and it's fine.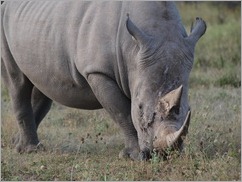 Today we passed through 4 vet fences, none of which stopped us, so a load of good they are doing! We arrived at the Khama Rhino Sanctuary just before 4pm, in perfect time for a game drive, so off we headed. 5 minutes in and we had seen our first white rhino at the pan, along with the inevitable springbok, gemsbok, wildebeest and impalas. A few minutes later and the next rhino grazed right beside us and then crossed the road in front of our car. Maybe 10 minutes later when we reached the Serwe Pan there were 4 rhinos in the pan right in front of us, another 4 off to the right a bit and we had passed I think another 3 on the way there! We sat and watched them for a while and another 2 joined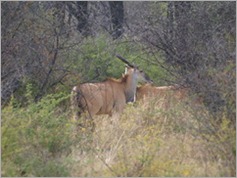 them. It was almost too easy! (We did a game drive on the way out in the morning and didn't see one rhino, so the afternoon is definitely the time to go). Driving a bit more and we had 3 rhino, including a baby graze beside us and in front of the car. We also finally saw some Eland which are new for us, but they are near impossible to take a picture of as they are so shy and by the time you see them they have darted off into the bushes. To add some variety we also saw a group of giraffes, a few kudu, some warthogs and some steenboks. The sanctuary is definitely worth stopping at if you are passing through, especially if you have not seen rhino before.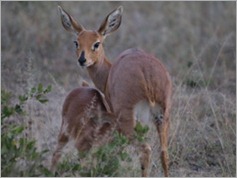 The campsites are nice, all separated from each other, although you occasionally heard traffic noise from the main road and there was a phone tower glowing red right in front of us, so not exactly the perfect bush experience. They did though have wonderful hot showers which we took full advantage of, especially after having to conserve water in our bush showers over the last 4 nights. It rained a bit during the night which helped washed some of the dust off the tent and car.
Tomorrow we head for the border & back into South Africa for about a week.