Our night at Tsodilo Hills was interesting. There were cows throughout the campsite, one of them with a lovely LOUD bell on it! We chased them out of camp several times but they kept coming back. At one stage during the night we could hear one of them right below our tent making one hell of a racquet. I don't know what it was doing exactly, but boy was it noisy.
Our guide was supposed to arrive at 7.30am so we could do the walk to see the rock paintings. Not surprisingly, given this is Africa and he probably didn't wear a watch, by 8am he had not turned up. Luckily the curator of the museum took us instead. It is a 2 hour walk, part of which you need to scramble and climb up over rocks, which was pretty hard work and then there is an even longer section where you need to scramble down, which thankfully wasn't so hard but was slow going being careful not to slip and having to ease your way down. The rock paintings were interesting to see and the walk was quite pleasant so I am glad we did it.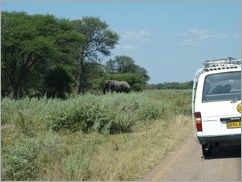 We left there and headed towards Maun, passing through a couple of roadblocks, none of which were any issue. Our fridge was checked once for meat but that was it. We saw our first wild elephant on the side of the main road yesterday which was cool. It makes a change from the hundreds, if not thousands of cows, goats, donkeys, sheep and horses we are normally dodging on the roads. Hopefully we will start to see more wild animals along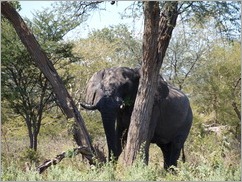 the roads as we head north.
We arrived in town just after 3pm and managed to book our car in for a service for this morning and organise our campsites for the Central Kalahari all by 4.30. A miracle in African time! The campsites in the Kalahari are managed by the National Parks and Bigfoot Safaris. Only the NP Office is in Maun, the other is in Gabarone, so you need to coordinate between the 2 to organise your bookings (you cannot turn up without a booking). The ladies in the NP Office were very helpful and rang Bigfoot for us and we managed to get sites between them for 4 nights. We have 2 nights at national park sites (at only 60 Pula or $9) and 2 nights at Bigfoot sites (at 336 Pula or $50). just a slight difference in cost and I doubt the sites themselves are any different! We head off tomorrow to the Kalahari, which we are looking forward to as it is remote, we should be camping by ourselves without amenities, and we might get lions in camp (even though I will be scared if that happens it will be awesome – just hope I am in the tent!).
Last night and tonight we will spend at Audi Camp. It is quite nice with a pool, bar and large restaurant. We ate in the restaurant last night and had a few drinks for a total of about $40. They also have Wi-Fi (that you pay for) which allowed us to finally update things. There was an overland group and a couple of other largish groups in camp but they didn't disturb us, I could imagine though that it could get crowded and quite noisy at times.
We are currently waiting for our car to be serviced and will then stock up on food, water, fuel and money before we head off into the Kalahari tomorrow.