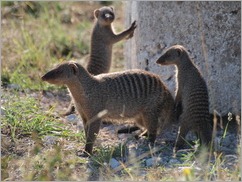 We left camp about 6.30am and headed off on a game drive towards Namutoni Camp where we would stay the night. There weren't too many animals to be seen except a couple of giraffes and zebras, although we did manage to see a large group of Banded Mongoose running around. Just before camp we saw a lioness and a cub, but they were lying deep in the grass and you couldn't see them very well at all. People also said that there were some cheetahs lying in the distance on the other side of the road, but neither of us managed to spot them, even with the binoculars. Around the same time other animals started to appear and we saw more giraffes, zebras, wildebeest, gemsbok, springbok, impala and various birds.
After lunch and a rest in camp we headed off for an afternoon drive. A few kilometres from camp there were animals everywhere. I think there must have been a giraffe convention going on as I ha
ve never seen so many of them in such a small area, they were absolutely everywhere! There were also heaps of springbok, zebras and wildebeest. We also saw a couple of warthogs, impala, kudu, ostriches and for the first time some Damara Dik Diks, which are tiny, cute little antelopes. A couple of the waterholes had a right party going on with a variety of animals converging on them, including wildebeest, zebras and impalas.
We visited the waterhole in camp again, but there were only a few zebras to be seen. I was way too tired to keep my eyes open, so we didn't stay too long. This being on holidays is exhausting work!