Wayne's finger was significantly better the next morning, although it was stiff, his lower arm had altered sensitivity and he was only able to partially use it. Today it is better again, but he is still having some trouble using it, but the pain has gone, which is good.
We left Purros and headed towards Sesfontein, again travelling through pretty scenery. We had planned to take the river bed route, but were told that it was too muddy, and given that we h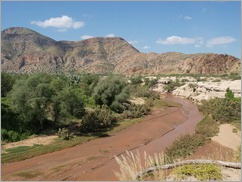 ad already seen the desert elephants, and Wayne's finger meant there was no way he would be able to dig us out if we got stuck, we decided to take the easy and much quicker route. We saw some Springboks and a giraffe in the distance and a couple of ostriches, but nothing exciting along the way. We were going to spend the night at the Khowarib Slucht Community Camp, but as it was only just midday when we arrived we decided to stop for lunch and to head on further to shorten the following day. The camp itself though was nice. The site we used for lunch had a great view over the river and an excellent stone building to use as a shelter. It would have been a very pleasant place to stay.
Our original plan from there was to travel through the Khowarib Slucht riverbed 4wd trail, but we could not find out any information as to whether it was ok or not, and again we did not want to get stuck and be unable to get out, so we took the easy route and spent the night just outside Kamanjab at the Porcupine Camp. The camp was once again quite nice. We had a large site and the sites are reasonably separate from each other. The amenities are all outdoor, with large screened areas for the showers and water heated by a donkey.
Yesterday we noticed that there seemed to be something wrong with our brakes. The pedal needed to be pushed down too far and it was soft, and the handbrake needed to be pulled up too far, so we stopped at the first mechanic which we found in Kamanjab. One pad in each rear brake had worn down to the metal and needed replacing and they were full of mud. Luckily they had 2 relined pads that they have used to replace them, which should see us another 10000km, but we will need to organise something else as it will not last our journey. Air had also got into the brake line. Being Africa, it took 5 and a half hours to fix but only about $250 (but we will get that reimbursed).
As we had been up north for a quite a few days we desperately needed to shop, so we stopped in Outjo and restocked, although we could only buy meat and dairy products for the next 5 nights as we will then be in Botswana and we can't take meat and dairy in with us. It was then finally off to Etosha. We arrived at the gate about 5.40pm, which is just after sunset and the gate closing. The guard was still there and directed us to turn back to a camp outside the park as we did not have a booking and it was too late. After a bit of begging and explaining we were late due to car issues, the guard finally dialled Okaukuejo Camp for us, who advise me that yes they had a site and it was fine, so we managed to make it – just!
Given it was about 6.30pm when we got to our site and after the last hectic few days we decided to spoil ourselves and eat at the restaurant for dinner. They had a pretty good buffet, which included Kudu (which was very nice) and with drinks it only cost about $53 and I think we deserved a night off!
Last night was the first night we heard the lions roaring this trip, which was exciting. The camp has a large floodlit waterhole, but unfortunately there was nothing to be seen, presumably because there has been so much late rain they have many options for water. Tomorrow morning is our first real game drive of the trip, which we are both looking forward too. Hopefully we will see the lions we have heard.