Our day started great as we left camp and travelled through more scenic landscapes of lovely golden grass plains with mountains as the backdrop. Not 10 minutes from camp we saw a herd of hundreds of Springbok, as well as ostriches. We headed towards the Khumib and Hoarusib River beds, which we would drive through for most of the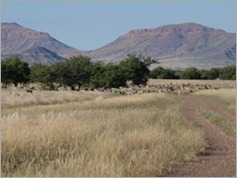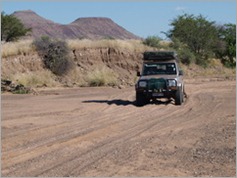 day. The area is known for the rare desert elephant so we were hoping to see some either today or tomorrow. We f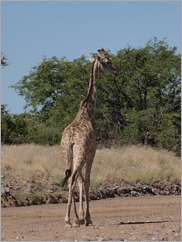 ollowed the tracks through the river bed, seeing a couple of Steenboks and a group of Giraffes along the way. Eventually the tracks stopped, but the GPS still had the track marked (which means someone has driven it) so we continued on and made our own path through the river bed, weaving our way across and around the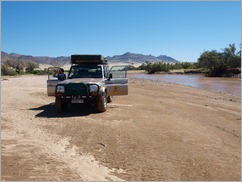 river and staying on solid ground. At one point we came to a drop that was too high so we had to go back and find another way. Unfortunately we managed to get stuck in the dry sand. It wasn't a big deal and within 10 minutes we were on our away again. Further on, as we came around a bend in the river there in front of us was a desert elephant, and as we sat and watched him eat and drink from the river we realised there were another 2 elephants eating in the bush behind him. We watched them for a while and then decided to head off. The first path we tried there was too big a drop off to cross, so we turned back to find another way.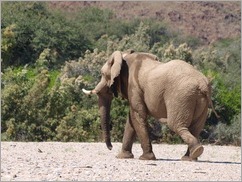 Finding a gentle slope down to cross a trickle of water we headed on. The car came to a grinding halt as we sunk into sandy mud. Great! We tried to get out, but it was no use, we were going to have to dig. By now it was midday, it was extremely hot, we were in the middle of the riverbed with no shade, oh and the elephants were less than 100 metres away! The car was up to the diff and axles and all 4 wheels had sunk, so we had no option but to jack each rear wheel up, put rocks and the sand ladders under them and dig away as much sand as possible from underneath the car and wheels. Whilst doing this we had to keep an eye out for the elephants. We could hear them at first but not see them and the wind was blowing so they would not be able to smell us just yet. We had to walk across the riverbed closer to the bushes to gather rocks, not knowing if they had moved up through the bushes or not. At one point they started walking up the riverbed towards us, so we took a break in the car, but they stopped. Later though, they really did walk up the riverbed as well as appeared out of the bushes in front of us, and there were 6 not just the 3 we had seen earlier. We sat in the car as they walked about 10 metres from us, drinking and eating. By now my heart was racing. Watching elephants up close is normally an awesome experience, which it still was, but when you are stuck with no escape route if they get aggressive it is pretty nerve wracking! We sat in the car with the window on their side up (so it was really hot) and kept as still and as quiet as possible, hoping they would just move on. You could tell they knew something was there as they could obviously see the car, but they kept pointing their trunks in our direction and checking us out. After about 30 minutes they eventually passed far enough away so that we could continue. (No photos as I was too nervous to get the camera out!). We were ready to try again, and this time the car successfully got out of the sand. Just before they approached us we were about to try and see if we could get the car out. I am very glad they arrived when they did and not a few minutes later as we would have been right in their path and gathering up the shovel, jack and ladders that were in the river bed about 20 metres away from where the car was now sitting on solid ground.  2.5 hours after getting stuck we were on our way again, exhausted and very hot. Guess where we needed to head – exactly where the elephants had gone. We followed behind them for a while making sure we had enough solid ground to escape if needed until we could deviate from their path. After a couple of attempts we managed to find a way out of the river bed and onto a road for the last 8km to camp. We did not want to get stuck again as we definitely did not have the energy to dig ourselves out again!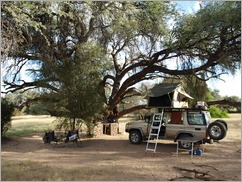 Purros Community Camp is again a very pleasant camp with large shaded sites some distance from each other. Each site has their own open air shower and toilet. Our shower was literally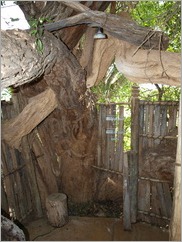 in the middle of a tree. The showerhead was attached to one of the branches, other branches were the shelf, and the trunk and branches formed part of the screening. It was really very well done. I think there must have been some initiative to encourage the villages to set up community camps that provided them with an instruction manual on how to do it. They have the same documents displayed, the same method for sinks and screening and the charge the same prices. It is a great idea as the village benefits from the income and we get to stay in great sites for very little money.
It was about 3.30 when we got to camp, so we rested for quite some while before setting up.The first thing was that the clips that attach to the car battery for our light had one wire broken, so that needed to be fixed. Then I managed to get grease from the fridge slide all across the front of my shirt. so I had to scrub that (not what I was planning on doing!). Then the little suction cap clothes line we have decided to have one end break, so I had to fix that. Nothing major, but annoying when you are already hot and tired. The worst thing though was that because the bugs, particularly the grasshoppers, were driving us nuts we decided to head to our tent to read and escape them. Wayne was reading and put his hand behind his head and next thing he yells in extreme pain saying something has bit him. It was then a mad panic to get our headlamps for a better light and to see what it was and try to not let it get us again, all in a very cramped space. I then noticed it was on my leg, so I flicked it away. He had been bitten by a scorpion. I managed to trap it under a pillow and wrap that in a sleeping bag and tossed it to the ground. Wayne was in extreme pain and we were unsure how dangerous the scorpion was. We lifted the sleeping bag up that was on the ground, whilst standing on the ladder, and saw it run out. Wayne managed to kill it. He was still in extreme pain but there were no other affects yet. He asked a couple of other campers if they knew whether it would be ok or not, and the consensus was that it should be after he described the scorpion to them. My medical book also reassured us by saying that it is very rare for a scorpion bite to be dangerous in an adult. Whilst he was suffering greatly from the pain, he was not feeling ill or getting worse which was a relief. He took some strong painkillers and antihistmine and tried to sleep, but needless to say neither of us got much sleep, he from the pain and me from being concerned he would get worse. It was well after midnight before either of us managed to get any rest, as little as it was. We don't really know how it managed to get inside our roof tent, but we think it must have crawled into the tent cover that we had left on the ground during the night and then crawled into the tent. That is the only idea we think they live on the ground.
So whilst we saw some great things today, it was also a long hard day and not one I want to repeat in a hurry!