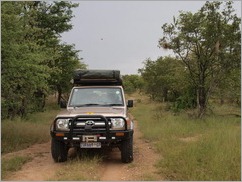 We have done some serious 4wd driving over the last 2 days, probably the most extreme we will do during our whole time here. We left Epupa for the start of Van Zyl's Pass, travelling down narrow tracks through the scrub passing only a handful of locals and a couple of villages. The going was slow due to the roughness of the track rather than difficulty until we got closer to Van Zyl's. The last 90 minutes we scrambled up and down boulders and pretty rough tracks with large dips and holes. The car handled it all fine, but it was extremely slow and rough going. No photos though as it was too hard to stop and get out.
We camped the night at the Van Zyl's Community Camp. They have 3 sites se
parated from each other on the river (although there is no water in the river at the moment). Each site has its own open air toilet and shower with a donkey to heat the water and plenty of shade. We had a pleasant afternoon relaxing and were looking forward to a quiet evening. Whilst we were cooking dinner 2 4wds suddenly arrived on our site and parked. No, do you mind or is it ok if we invade you. We pointed out where their campsite was on the other side of the river but they refused to move (ok, being polite, I did say they were welcome to stay so long as they didn't disturb us whilst I was pointing out their site). There went our peace and quiet. The arrogant male who had parked initially on our site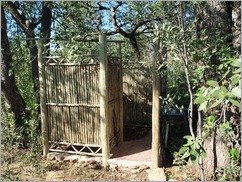 without so much as a hello, basically yelled all night and had absolutely no consideration for us and the peace and quiet we were hoping to enjoy. He then got up at 5am and started bashing around (oh and he snored)! Needless to say I was not very impressed, but had to hold my tongue in case we needed their help the next day. We found out later that the people on the other site a couple of hundred metres away could also hear him and apparently he was swearing constantly, so that gives an idea of how loud he was and I'm glad I couldn't understand what he was saying. Their trucks have Cape to Cairo written on them, but I really hope we do not encounter them again.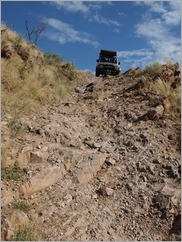 Today we descended Van Zyl's Pass. Yes it is rough, but there is really only 1 section of 100m or so that is really extreme. The rest was no worse, in fact may even have been better, than the day before as you w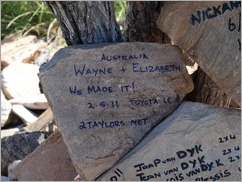 ere not climbing up the road. I didn't manage to get any video as with only the two of us, one needed to drive whilst the other guided. The photo also doesn't really show how rough it is. We managed fine and the car again proved just how capable it is. At the bottom of the pass it is a tradition to sign a rock and place it under a tree, so of course we contributed to the pile. It was funny as there was a rock signed by a couple whose webpage we were following in preparing for our own journey. I hope someone follows us to get ideas for their trip and sees our rock too.
After descending the pass you arrive in a very scenic valley known as Marienfluss. There is just a sand track going through long golden grass with mountains around. We saw some Gemsbok and ostriches off in the distance but that was all. The road is 2 sand tracks for the wheels with grass in the middle, but in the main track the grass in the middle is short and not an issue. The track at one point was a bit rough and Wayne could see another track a couple of metres aw
ay that looked better so he decided to take that. The grass in the middle here though was quite long and grass seeds went flying everywhere, and we didn't have the seed net on our radiator. We only travelled 3 km, but when we stopped our radiator and surrounds were completed covered in piles of grass seeds. A perfect scenario for the car to overheat, or even worse catch fire. We then spent the next hour in the blazing sun, blowing out all the grass seeds and attaching the seed net. Not fun! (I am hoping this is the only photo you see of Wayne under the car!)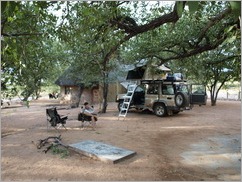 We left the valley and climbed some more rough roads and are now staying in the Marble Community Camp at Otmenje. Again it is a pleasant campsite with large shaded sites on the river (again no water though) and nice amenities. There is a thunderstorm off in the distance, which hopefully we won't get, but it has cooled things down significantly already which is very welcome. I hear it is cold at home now, which I am not missing in the slightest!