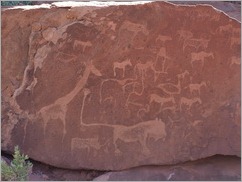 Today we visited the rock engravings at Twyfelfontein, the Petrified Forest, Burnt Mountain and the Organ Pipes. The rock engravings were really interesting. They believe they are between 2000 and 6000 years old and were done by the San Bushmen as a means of communicating to other tribes. The engravings are all of animals and their footprints rather than people. There engravings of seals and penguins which means the San people must have travelled inland from the coast which is over 100km away.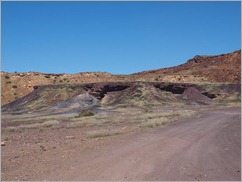 Burnt Mountain looks to me just like a heap of gravel rubbish dumped beside the road from roadworks, but I guess everyone sees things differently.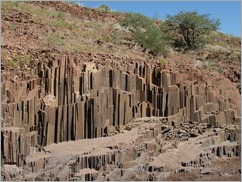 The Organ Pipes are a bit of an oddity. They are rocks that have formed into tall, split pieces of rocks that resemble organ pipes.
The Petrified Forest was simple,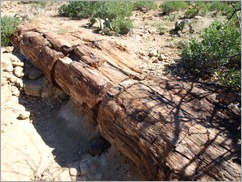 but to see the trees was pretty cool. They still look like fallen trees, bark and all, yet they have turned into stone. They apparently travelled here from central Africa during floods. The guide here was pretty unenthusiastic, unlike our guide at the rock engravings unfortunately as I am sure we could have learnt a bit more about the place, but it was worth a look.
We left the area and headed towards Palmwag where we got our first puncture about 20 minutes from where we were staying. No big deal and easily fixed, but annoying to have to get the jack off the roof and change the tyre. We were lucky though that it happened on a nice flat piece of road and that we realised earlier that we didn't have a wheel brace with us and bought one. The hi-lift jack though decided that it didn't want to go down so we had to kick it out of place (not so good).
We stayed the night at the Palmwag Lodge camp. The camp is quite expensive compared to other places, although we did get a site to ourselves with our own shower and toilet. I do not think though it is worth the money unless you need somewhere where you can eat in the restaurant.