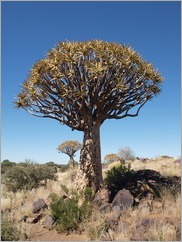 We left the Ai-Ais National Park and headed towards Keetmanshoop through pretty flat desert plains not seeing much except for some Springboks, ostriches and a huge goanna. We dropped in to see the Quiver Tree Forest and the Giant's Playground. The forest is supposed to be the largest group of quiver trees in southern Africa. They are unusual trees but I don't think it is worth the entrance fee, especially when you drive up the road a little further and you can see them anyway for free! The Giant's Playground is an unusual collection of groups of rocks that look like a giant's playing blocks piled up around the place. Again it is unusual but not worth the fee.
We camped last night and tonight at Klein-Aus Vista Camp at Aus. Another pleasant camp,although no grass this time, but still we have hot showers.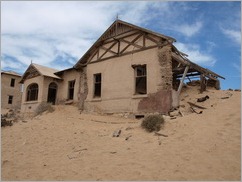 Today we took a tour around the old ghost town of Kolmanskop. It was a significant diamond mining town in the early 1900s and had everything there you could ask for, even electricity when nowhere else had it. They had a large hospital, butchery, bakery, shop, ice making facilities, a huge concert hall and a school as well as all the mining buildings. The town was abandoned and is being overtaken by the shifting sand dunes. Some buildings are completely full of sand, others are partially filled. It was an extremely interesting tour and place to visit and would definitely recommend it.
The area around here for hundreds of kilometres is still a restricted diamond mining area. Even today they are mining diamonds – 1.6 million carats up to the third quarter last year alone. When they first arrived you could literally pick them up by the loads straight from the ground. That would have been some find!