The owner at Sophia Dale let us use their internet connection before we left without charging us for it, which was really nice of him and allowed me to get some posts up to date.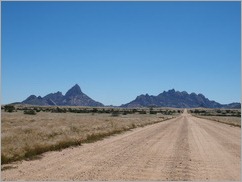 We had an easy drive to Spitzkoppe where we camped last night and again tonight. The camp is community run and the sites are scattered throughout the area in between the huge rocks. We are staying at site 9 which is sheltered from the wind and has a reasonably level spot to park the car so we aren't sliding out of bed.
Last night we had our first bush shower as there are no amenities unless you want to drive a couple of kilometres back to the gate. It was pretty luxurious really as we have a hot water
unit with a shower handle attached to it, and whilst we have to be quick to save water, it definitely makes you feel much cleaner.
Last night whilst we were eating dinner we had a Spotted Genet walk about 3 metres from where we were sitting. It is only small like a cat, but neither of us had seen one before so it was pretty cool. There are also lots of colourful lizards running around on the rocks.
The rocks around the area are large and red and quite scenic. It is popular with climbers as there are some vertical rock faces for them.
Today we are having a rest day at Spitzkoppe, allowing us to catch up on some washing, clean out the car and let it dry out (I think the tap for the water tank got opened a little whilst we were driving over some really rough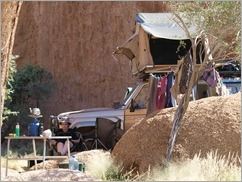 roads the other day and the carpet is now quite wet and makes the whole car stink).
We will head off to the Skeleton Coast tomorrow.